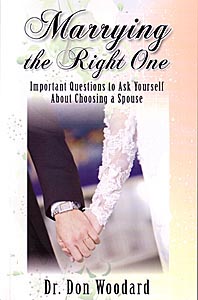 Marrying the Right One
"Is there one specific person who is the right one for me? Do I really have a soul mate whom God intends to be my spouse?"
These are legitimate questions which are often on the minds of Christian young people. In a world of casual  dating which often leads to a superficial, extravagant wedding, Christians must remember that there is a spiritual aspect in choosing a husband or wife.
Marrying the Right One
by Dr. Don Woodard
Available as a Paperback.