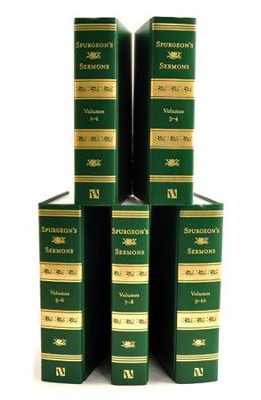 Spurgeon's Sermons, 5 Volume set
The sermons of Charles Haddon Spurgeon were the pinnacle of preaching in mid-nineteenth-century England. They are still powerful and widely influential today. This five-volume set is a compilation of Spurgeon's best sermons, covering topics from Israel in Egypt and confession of sin to justification by grace and Paul's first prayer. Originally published in ten volumes in 1883, it is now a five volume set with two volumes in each book.
An economically friendly edition of over 250 of Spurgeon's finest sermons.
Bound in a handsome, durable hardback for years of reading this collection also includes a subject index and a biblical text index for easy reference. Charles Spurgeon is known as the "prince of preachers" and now you can add his biblically based, gospel centered sermons to your library at a spectacular price!
Spurgeon's Sermons
Available as hardback
Retail Value $200.00