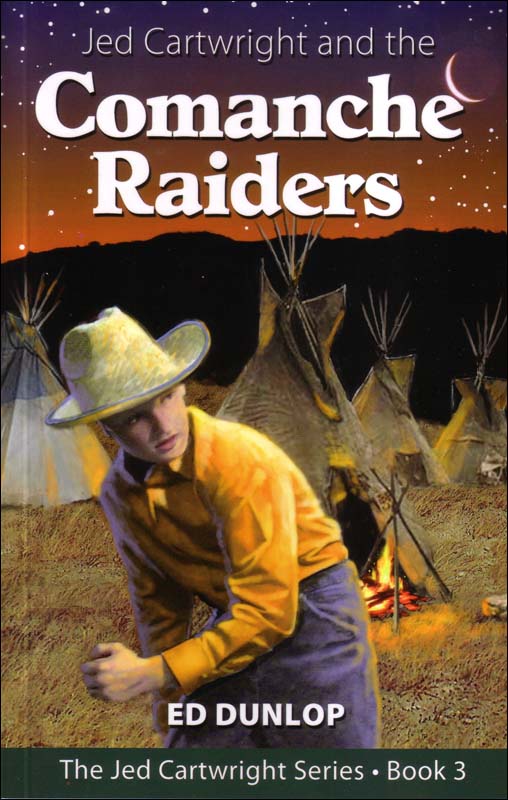 [et_pb_slick_woo_gallery _builder_version="3.2" image_size="woocommerce_single" link_slides="on" arrows="on" dots="off" center_mode="off" autoplay="on" pause_on_hover="on" adaptive_height="off" vertical="off" fade="off" background_color_gradient_type="linear" background_color_gradient_direction="1px" background_color_gradient_direction_radial="center" background_color_gradient_overlays_image="off" arrow_colour="#6b6b6b" animation_style="zoom" /]
The Jed Cartwright Series: Comanche Raiders
Jed Cartwright gets his own horse, a beautiful black stallion, and the kind widow who had cared for them when they were in need earlier comes to live with them in St. Louis. Then a family who had been enemies become friends. How could life get any better?
Just when it seems that everything is perfect, Jed and his sister, Mandy, are kidnapped by a party of Comanche Raiders. They are taken far to the west and kept closely guarded as prisoners by the tribe. As they experience the strange customs of their captors, they wonder what is to be done with them and whether or not they will ever see their home again.
Experience Jed Cartwright's new adventure as he seeks the Lord's help in escaping from the Indians and making his way back home.
The Jed Cartwright Series Book 3
Comanche Raiders
by Ed Dunlop
Available as a Paperback.