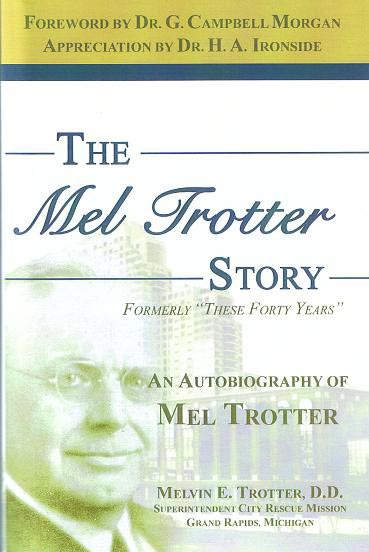 The Mel Trotter Story
Mel Trotter (1870-1940), grew up in a drunkards home. His father ran a saloon and it was said that he drank as much as he served! In January 1897, Trotter penniless, drunk and shoeless trudged through the snow in Chicago, headed for Lake Michigan and a cold, watery suicide. Passing a mission he was urged inside and after hearing a testimony of salvation, was soundly converted to Christ himself. Later Trotter was asked how he knew he was saved, "I was there when it happened, January 19, 1897, ten minutes past 9:00, Central time, Pacific Garden Mission, Chicago, Illinois, USA!"
In 1900, he began his rescue mission work of managing the Grand Rapids Mission for forty years and helping to found sixty-seven others across the nation.
The Mel Trotter Story
An Autobiography
Available as a Paperback.