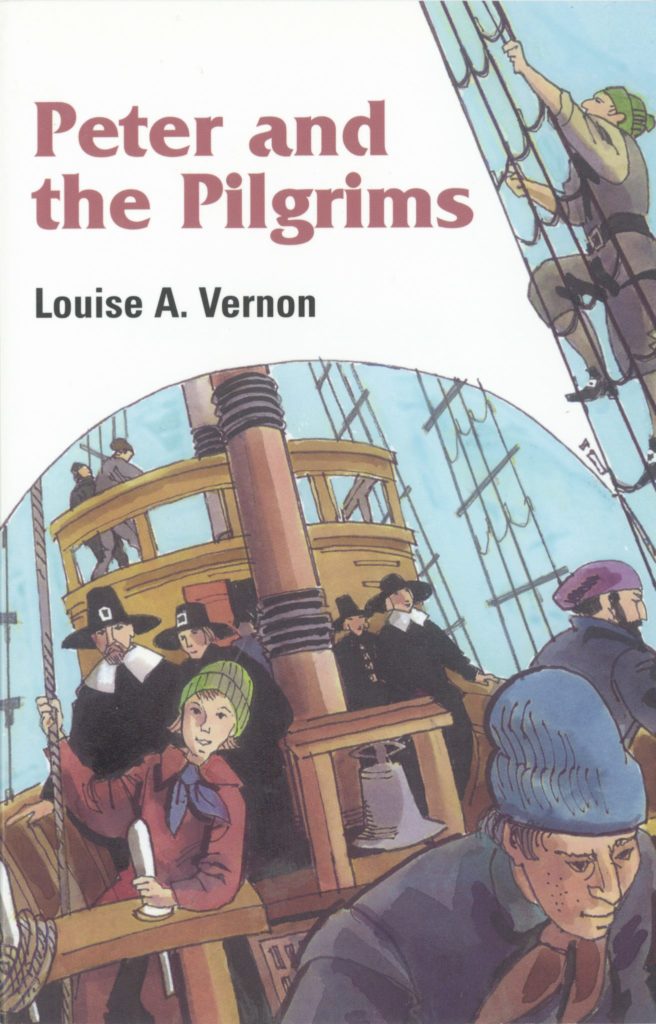 [et_pb_slick_woo_gallery _builder_version="3.2" image_size="woocommerce_single" link_slides="on" arrows="on" dots="off" center_mode="off" autoplay="on" pause_on_hover="on" adaptive_height="off" vertical="off" fade="off" background_color_gradient_type="linear" background_color_gradient_direction="1px" background_color_gradient_direction_radial="center" background_color_gradient_overlays_image="off" arrow_colour="#6b6b6b" animation_style="zoom" /]
Peter and the Pilgrims
Peter Cook has a good life as a bound boy. Although a youth who has to do hard labor, he is treated like a son by his master. Everything changes the day that Peter discovers that his mater has died of the dreaded disease—the black plague. Because Peter touched the corpse, he is thrown out of the great house and left on his own.
Peter soon meets a group of people called Separatists (people who have chosen to separate from the established Church of England.) Many have already fled to Holland for greater religious freedom. Now there is talk of going to the Americas—the New World!
Join young Peter and his friends as they make the long and dangerous trip across the Atlantic Ocean and meet the native American people whom they have called Indians. Peter befriends Squanto and celebrates the first Thanksgiving as a Pilgrim.
Peter and the Pilgrims
by Louise A. Vernon
Available as a Paperback.