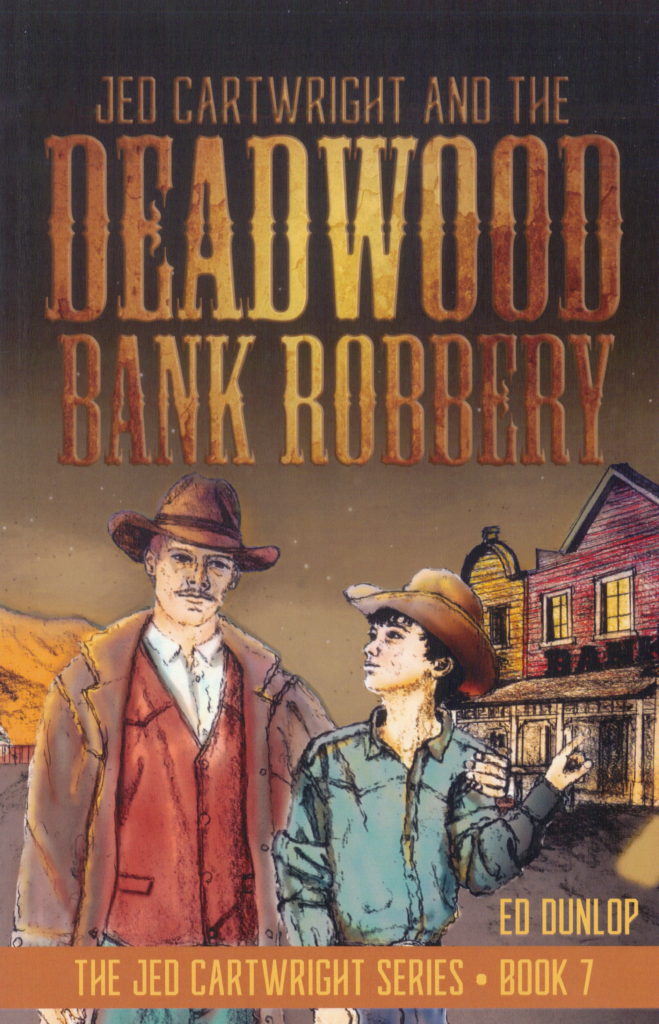 [et_pb_slick_woo_gallery _builder_version="3.2" image_size="woocommerce_single" link_slides="on" arrows="on" dots="off" center_mode="off" autoplay="on" pause_on_hover="on" adaptive_height="off" vertical="off" fade="off" background_color_gradient_type="linear" background_color_gradient_direction="1px" background_color_gradient_direction_radial="center" background_color_gradient_overlays_image="off" arrow_colour="#6b6b6b" animation_style="zoom" /]
The Jed Cartwright Series: Deadwood Bank Robbery
Jed Cartwright and his adopted brother Nathan join Pa cartwright to help the Diamondback Ranch cowboys in a grueling trail drive from Lariat, South Dakota, to Abilene, Kansas. Jed senses that the ranch hands consider him a tenderfoot, but when he starts producing incredible woodcarvings, the other cowboys are amazed at his skill. Jed finds that suddenly they all want to be his friends.
As the Diamondback hands pass through the town of Deadwood, South Dakota, Pa stands up to the town banker, who is trying to force another man to take a drink of liquor. Pa finds that he has made a deadly enemy in the process.
When the Deadwood Bank vault is forced open and a shipment of gold is stolen, the evidence seems to point to Pa. To Jed's dismay, Pa is found guilty and sentenced to 10 years in the Kansas State Prison. The question remains: who really stole the gold? When Jed and Nathan set out to try to prove Pa's innocence, hep comes from an unexpected source.
The Jed Cartwright Series Book 7
Deadwood Bank Robbery
by Ed Dunlop
Available as a Paperback.