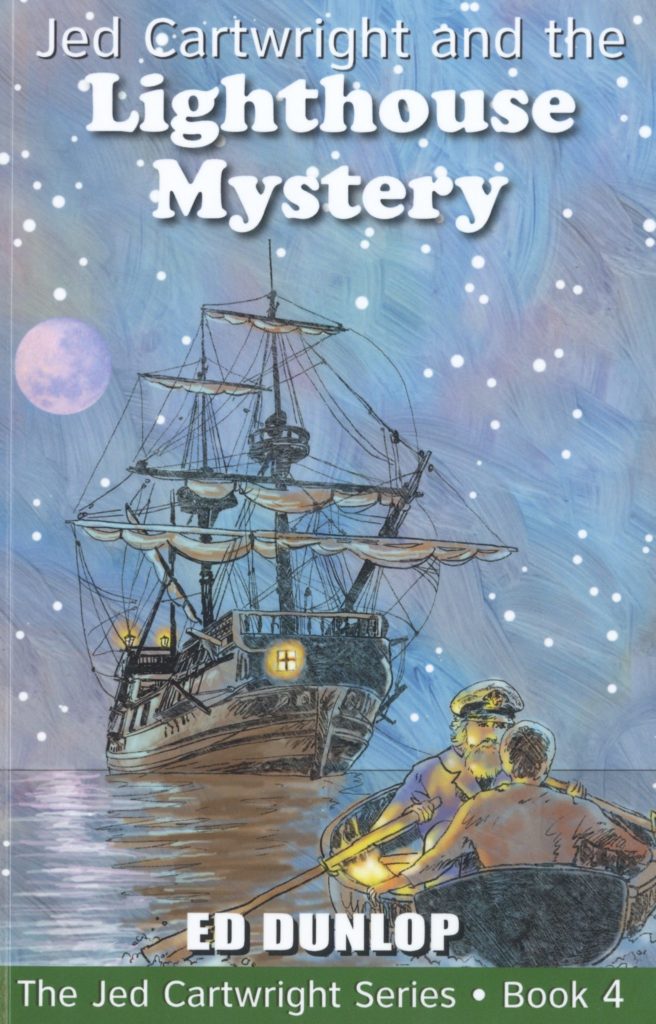 [et_pb_slick_woo_gallery _builder_version="3.2" image_size="woocommerce_single" link_slides="on" arrows="on" dots="off" center_mode="off" autoplay="on" pause_on_hover="on" adaptive_height="off" vertical="off" fade="off" background_color_gradient_type="linear" background_color_gradient_direction="1px" background_color_gradient_direction_radial="center" background_color_gradient_overlays_image="off" arrow_colour="#6b6b6b" animation_style="zoom" /]
The Jed Cartwright Series: Lighthouse Mystery
Join Jed and his family as they travel by train to South Carolina to meet Jed's adopted grandfather, the keeper of the lighthouse at Sharktooth Point.
During their visit, Jed and Nathan discover that someone is using the old lighthouse to signal a mysterious ship at sea. When the local constable warns that a gang of international smugglers is operating in the area, the boys guess the purpose of the clandestine lighthouse signals.
Who is sending secret signals from the old lighthouse? Why doesn't Grampa want to talk about it? Who is the stranger who disappears on the open beach, leaving no trace behind? Is Grampa involved with the smugglers?
Join Jed, Mandy, and Nathan as they seek to unravel the conflicting clues and solve the mystery of the old lighthouse. This fast paced adventure stresses the value of complete obedience of parental authority.
The Jed Cartwright Series: Book 4
Lighthouse Mystery
By Ed Dunlop
Available as a Paperback.