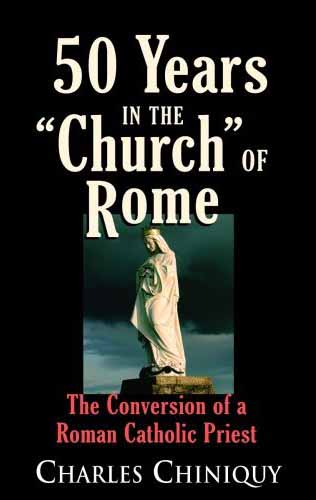 [et_pb_slick_woo_gallery _builder_version="3.2" image_size="woocommerce_single" link_slides="on" arrows="on" dots="off" center_mode="off" autoplay="on" pause_on_hover="on" adaptive_height="off" vertical="off" fade="off" background_color_gradient_type="linear" background_color_gradient_direction="1px" background_color_gradient_direction_radial="center" background_color_gradient_overlays_image="off" arrow_colour="#6b6b6b" animation_style="zoom" /]
50 Years in The Church of Rome
Chiniquy was ordered to give up his precious Bible and pledge blind obedience to the "church." After a dark night of struggle,he emerged gloriously saved through faith in Christ. Learn how he led almost his entire Catholic congregation to trust in Christ alone. See how his desire to please his Saviour caused conflicts with his Catholic superiors.
50 Years In The Church of Rome--The Conversion of a Roman Catholic Priest
by Charles Chiniquy
Available as a Paperback.