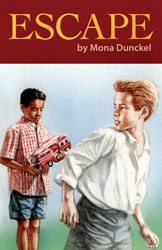 [et_pb_slick_woo_gallery _builder_version="3.2" image_size="woocommerce_single" link_slides="on" arrows="on" dots="off" center_mode="off" autoplay="on" pause_on_hover="on" adaptive_height="off" vertical="off" fade="off" background_color_gradient_type="linear" background_color_gradient_direction="1px" background_color_gradient_direction_radial="center" background_color_gradient_overlays_image="off" arrow_colour="#6b6b6b" animation_style="zoom" /]
Escape
Charlie likes the small town in Ethiopia where his dad is a pastor. He likes hunting for treasures in the market and playing with his friend Wandaro. Each day he adds a new object to his treasure box.
But rebel soldiers are taking over the nearby towns, and soon Charlie's father is captured. Can one of Charlie's treasures help save him?
ESCAPE
by Mona Dunckel
Available as a Paperback.