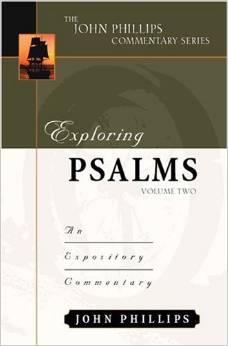 [et_pb_slick_woo_gallery _builder_version="3.2" image_size="woocommerce_single" link_slides="on" arrows="on" dots="off" center_mode="off" autoplay="on" pause_on_hover="on" adaptive_height="off" vertical="off" fade="off" background_color_gradient_type="linear" background_color_gradient_direction="1px" background_color_gradient_direction_radial="center" background_color_gradient_overlays_image="off" arrow_colour="#6b6b6b" animation_style="zoom" /]
Exploring Psalms Volume 2
The John Phillips Commentary Series is designed to provide pastors, Sunday school teachers, and students of the Scripture with doctrinally sound interpretation that emphasizes the practical application of Bible truth. Working from the familiar King James Version, Dr. Phillips not only provides helpful commentary on the text, but also includes detailed outlines and numerous illustrations and quotations.
The John Phillips Commentary Series
Exploring Psalms Volumes 2
Available as a Hardback.