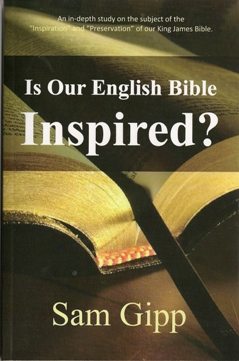 Is Our English Bible Inspired?
Is our King James Bible perfect or just "a good translation?"
Are there 20,000 errors in it?
Can a man be a true "Bible Believer" and not believe it is inerrant?
Is there really a perfect Bible you can hold in your hand or is "the Bible" a mythical book which exists only in the preaching of some zealous Fundamentalists?
In this book Dr. Samuel C. Gipp answers these and many more questions about our English Bible.
Is Our English Bible Inspired?
by Sam Gipp
Available as a Paperback.