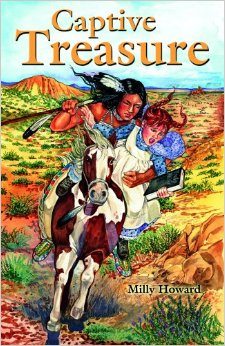 [et_pb_slick_woo_gallery _builder_version="3.2" image_size="woocommerce_single" link_slides="on" arrows="on" dots="off" center_mode="off" autoplay="on" pause_on_hover="on" adaptive_height="off" vertical="off" fade="off" background_color_gradient_type="linear" background_color_gradient_direction="1px" background_color_gradient_direction_radial="center" background_color_gradient_overlays_image="off" arrow_colour="#6b6b6b" animation_style="zoom" /]
Captive Treasure
Traveling west with her family, Carrie Talbot enjoys all the excitement of the journey. But when Cheyenne raiders attack the wagon train, Carrie is taken away to the Indians' riverside camp, far from everyone she loves. Her only possession is the family Bible.
Struggling with a new people and a different language, Carrie discovers that her God and His Word are far mole powerful than she could have ever imagined.
Captive Treasure
by Milly Howard
Available as a Paperback.