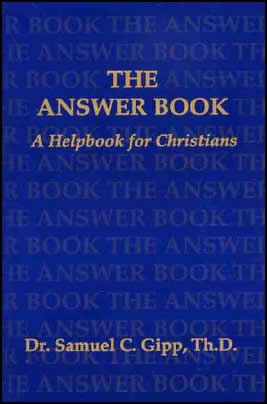 [et_pb_slick_woo_gallery _builder_version="3.2" image_size="woocommerce_single" link_slides="on" arrows="on" dots="off" center_mode="off" autoplay="on" pause_on_hover="on" adaptive_height="off" vertical="off" fade="off" background_color_gradient_type="linear" background_color_gradient_direction="1px" background_color_gradient_direction_radial="center" background_color_gradient_overlays_image="off" arrow_colour="#6b6b6b" animation_style="zoom" /]
The Answer Book
Is "Easter" a mistranslation in our English Bible? What should we do about the archaic words? Was King James a homosexual? Was Erasmus a "good" Catholic? Are King James Bible Believers a "cult"? Dr. Gipp answers these and many other questions asked concerning the King James Bible. Over sixty questions are addressed in his clear, easily understood style.
The Answer Book
by Dr. Samuel C. Gipp
Available as a Paperback.