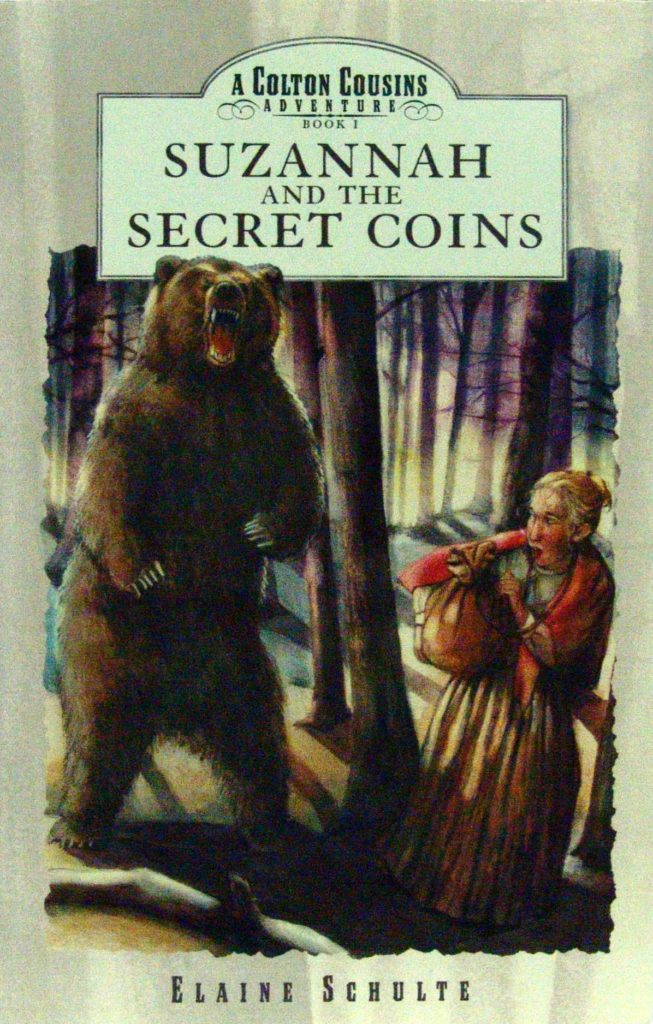 [et_pb_slick_woo_gallery _builder_version="3.2" image_size="woocommerce_single" link_slides="on" arrows="on" dots="off" center_mode="off" autoplay="on" pause_on_hover="on" adaptive_height="off" vertical="off" fade="off" background_color_gradient_type="linear" background_color_gradient_direction="1px" background_color_gradient_direction_radial="center" background_color_gradient_overlays_image="off" arrow_colour="#6b6b6b" animation_style="zoom" /]
The Colton Cousins Adventure Series
Suzannah and the Secret Coins 
Suzannah bristled. She faced him, blazing with anger. "You gambled it away, didn't you?" "It wasn't enough that you lost your own parents' home in a card game! You had to go and—"
"Never mind that!" He cut her short. "The house is sold, and we're leaving tonight. . . . A carriage will be here at midnight, and we'll be in it, with or without your things." And so begins Suzannah's journey from the security of Alexandria into the western wilderness. 130 pages.
---
Daniel Colton under Fire 
Daniel nodded, feeling the prickle of fear. In the distance he could hear the howling of wolves. What if he couldn't do his part when their lives depended on his being able to hunt for food? What if the next time Marigold decided to balk, Daniel couldn't get him up? And worst of all, what if Garth had really meant what he had said about killing Indians? These questions haunt Daniel Colton's mind as he and his family take their journey west. Can he prove himself to be a real frontiersman? And can he fight against his old enemy—fear? 137 pages.
---
Suzannah Strikes Gold 
"I thought you always depended on God to take care of you," Ned said. "In fact, you're one of the people who taught me what I know about Him. Does this mean that you are giving up on God?"  "Of course not," she said irritably. "Gold brings fever too."  He gave her a curious look. "Lots of otherwise fine folks catch it." "Well, I'm not one of them," Suzannah protested. Uncle Frank's decision to keep the family together puts the Colton family back on the road west. 144 pages.
---
Daniel Colton Kidnapped
Daniel paused. "Well, then at least I need to tell you that I won't be working for you anymore. It's time I told Father what I've been doing, like I should have from the beginning. I dreamed up some high-minded excuses so I'd feel better about it, but that's all over." Charles glared at him. "I told you . . . no one backs out of a business arrangement with me." Daniel Colton finds his faith tested as his family settles into their new life in California. 138 pages.
---
The Colton Cousins Adventure Series 1–4
by Elaine Schulte
Available as a Paperback.