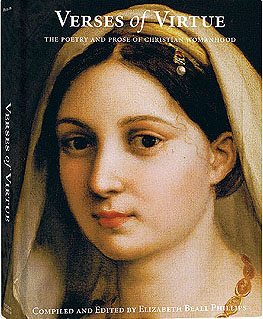 [et_pb_slick_woo_gallery _builder_version="3.2" image_size="woocommerce_single" link_slides="on" arrows="on" dots="off" center_mode="off" autoplay="on" pause_on_hover="on" adaptive_height="off" vertical="off" fade="off" background_color_gradient_type="linear" background_color_gradient_direction="1px" background_color_gradient_direction_radial="center" background_color_gradient_overlays_image="off" arrow_colour="#6b6b6b" animation_style="zoom" /]
Verses of Virtue: The Poetry and Prose of Christian Womanhood
Without a vision for femininity and virtue, Christian womanhood will not survive the twenty-first century...Elizabeth Beall Phillips seeks to revive this vision. In Verses of Virtue she draws from some of the most heart-warming and inspirational verses from Scripture, America's illustrious past, and even antiquity to provide women with a volume brimming with encouragement.
Verses of Virtue, The Poetry and Prose of Christian Womanhood
compiled and edited by Elizabeth Beall Phillips
Available as a Paperback.