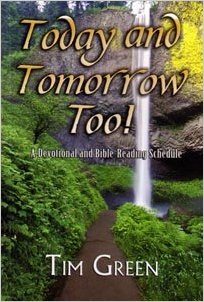 [et_pb_slick_woo_gallery _builder_version="3.2" image_size="woocommerce_single" link_slides="on" arrows="on" dots="off" center_mode="off" autoplay="on" pause_on_hover="on" adaptive_height="off" vertical="off" fade="off" background_color_gradient_type="linear" background_color_gradient_direction="1px" background_color_gradient_direction_radial="center" background_color_gradient_overlays_image="off" arrow_colour="#6b6b6b" animation_style="zoom" /]
Today and Tomorrow Too!
From the powerful pen of Evangelist Tim Green comes another volume of devotional readings for an entire year. Similar to his earlier work, Today and Tomorrow, these short daily devotionals focus upon brief passages of Scripture and glean useful spiritual nuggets for the Christian walk.  The topics cover such themes as salvation, God's love, thankfulness, missions, soul winning, the fruit of the Spirit, the rapture, Heaven, faith and more.  Also included is a daily Scripture reference for reading through the entire Bible during the course of one year.
Today and Tomorrow Too!
by Tim Green
Available as a Paperback.